April 12, 2013 at 8:40 am | Posted in
Podcasts in Review
,
Regular Feature
,
Star Wars
|
Leave a comment
Tags:
Ashley Eckstein
,
dave filoni
,
david collins
,
michael a. stackpole
,
steve sansweet
Fifteen Minutes of Fiction: They have a new interview up with Steve Sansweet.
ForceCast: Had a special interview episode with The Clone Wars voice actress Ashley Eckstein. While some of the questions covered familiar ground, others covered new territory. Ashley didn't give away anything about the lost episodes of season six, but she did touch on her work as Ahsoka and on Her Universe.
Episode 248 is out but I haven't had a chance to listen to it yet, however the title intrigues me, "Who Doesn't Need More Killiks?".
Full of Sith: Episode XVII featured an interview with guest Amy Ratcliffe. The hosts ask Amy about how she got involved with Star Wars, her favorite moments and the extent of her work. It's a nice conversation and worth a listen. Continue Reading Podcasts in Review…
November 3, 2012 at 8:18 am | Posted in
Episode VII
,
Interview
,
Star Wars News
,
The Clone Wars
,
Utini Shout Outs
|
Leave a comment
Tags:
aaron allston
,
david collins
,
dragon*con
,
matt michnovetz
,
steve sansweet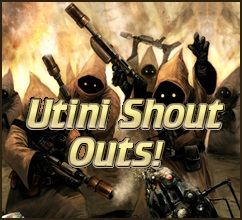 And our Utini Shout Outs this week go to…
Star Wars Report for posting a one hour Q&A with Star Wars author Aaron Allston from Dragon*Con 2012 where Aaron went into in depth discussion on X-Wing: Mercy Kill.
Jedi News and their interview with sound designer, voice director, voice actor, musician, and Celebration VI stage host David Collins.
SW Book Report for their excellent interview with The Clone Wars writer Matt Michnovetz who revealed just how involved George is with the creation of the episodes as well as some fun details on the Umbara arc.
The ForceCast for their special episode this week covering the Disney and Star Wars Episode VII announcement which included special guess Steve Sansweet who revealed some cool details.
Posted By: Skuldren for Roqoo Depot.
March 14, 2012 at 8:44 am | Posted in
Celebration
,
Events
,
Star Wars News
|
Leave a comment
Tags:
david collins
,
james arnold taylor
,
pablo hidalgo
Starwars.com has announced that there will be three stages of programming at Celebration VI. Each stage will have it's own host: James Arnold Taylor, David Collins, and Pablo Hidalgo. Continue Reading Star Wars Celebration VI Stage Hosts Announced…
Blog at WordPress.com. | The Pool Theme.
Entries and comments feeds.