May 22, 2013 at 12:00 am | Posted in
501st
,
Charity
,
Conventions
,
Databurst From the 501st
,
Events
,
Star Wars
|
Leave a comment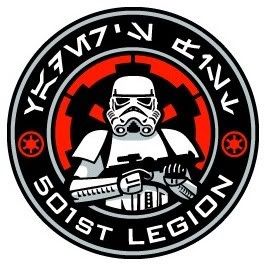 Latest Databurst From the 501st covering 501st Legion event news from May 22 through 28th. As always, be sure to mark your calendars and support your local garrisons.
May 22
Dune Sea Garrison will be in Phoenix, AZ for Phoenix Comicon 2013 from May 22-26.
May 23
Dutch Garrison will be in Enschede for the second Enschede Biennale opening (international art festival).
Italian Garrison will be in Bellaria for STICCON from May 23-26.
Ohio Garrison will be in Yellow Springs, OH for the McKinney Middle School/Yellow Springs High School Carnival.
Wisconsin Garrison will be in Green Bay, WI for the Indoor Picnic Musical Concert at the KI Convention Center from 6:30-8:00 PM.
Next Page »
Blog at WordPress.com. | Theme: Pool by Borja Fernandez.
Entries and comments feeds.