Preview Art for 'The Essential Characters'
August 28, 2012 at 1:26 pm | Posted in
Art
,
Del Rey
,
Star Wars Books
|
Leave a comment
Tags:
doug wheatley
,
the essential characters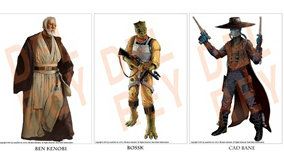 As reported earlier, Dark Horse Comics artist Doug Wheatley will be illustrating the upcoming Star Wars: The Essential Characters. Del Rey has posted a preview of some of Doug's awesome work for the book. You can check it out here.
Posted By: Skuldren for Roqoo Depot.
Leave a Comment »
Blog at WordPress.com. | The Pool Theme.
Entries and comments feeds.