First Look at 'Knight Errant: Escape'
March 9, 2012 at 11:01 am | Posted in
Art
,
Comic Books
,
Dark Horse
,
Interview
|
Leave a comment
Tags:
escape
,
john jackson miller
,
knight errant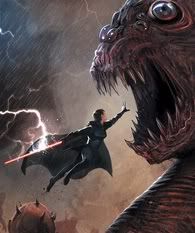 There's a special first look of Knight Errant: Escape on io9 which shows off some very nice looking artwork from the upcoming third arc of the comic series. The article also includes an interview with the series' comic writer, John Jackson Miller, and it looks like Odion is going to be back with a vengeance. Click here to check out the new art and the interview.
Knight Errant: Escape will be out in June.
Posted By: Skuldren for Roqoo Depot.
Leave a Comment »
RSS feed for comments on this post. TrackBack URI
Blog at WordPress.com. | Theme: Pool by Borja Fernandez.
Entries and comments feeds.