It's Official: Sam Witwer is Voicing Darth Maul
February 17, 2012 at 12:13 pm | Posted in
Entertainment
,
Star Wars News
,
Television
,
The Clone Wars
|
Leave a comment
Tags:
darth maul
,
sam witwer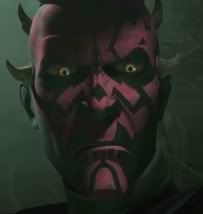 The news is out, over on MTV.com they have an exclusive clip of Sam Witwer voicing Darth Maul in this season's The Clone Wars. It also has some pretty interesting behind the scenes of Sam and Clancy Brown in the studio for recording. You can check out the clip here.
The episode will premier on March 9th. As always, feel free to discuss the news in the forums.
Posted By: Skuldren for Roqoo Depot.
Leave a Comment »
RSS feed for comments on this post. TrackBack URI
Blog at WordPress.com. | Theme: Pool by Borja Fernandez.
Entries and comments feeds.