Comic Reviews: Agent of the Empire – Iron Eclipse #2 & KOTOR – War #1
January 18, 2012 at 6:49 am | Posted in
Comic Books
,
Dark Horse
,
Reviews
|
Leave a comment
Tags:
agent of the empire
,
iron eclipse
,
knights of the old republic
,
war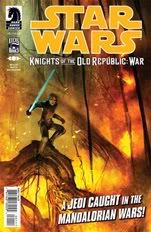 Two new comic reviews today. First up, Agent of the Empire starts to shine with Iron Eclipse #2. Agent Jahan Cross not only gets in trouble, but gets intimate as well. Check out the full review here.
We also have a review of the first issue in the brand new arc for Knights of the Old Republic. War #1 throws Zayne Carrick into the frontlines and a whole new mess of trouble. Oh, and there's a lot for Mando lovers to dig into. Click here to read the review.
Posted By: Skuldren for Roqoo Depot.
Leave a Comment »
RSS feed for comments on this post. TrackBack URI
Blog at WordPress.com. | Theme: Pool by Borja Fernandez.
Entries and comments feeds.