John Jackson Miller News
January 9, 2012 at 1:13 pm | Posted in
Comic Books
,
Dark Horse
,
Interview
,
Star Wars News
|
Leave a comment
Tags:
john jackson miller
,
knights of the old republic
,
war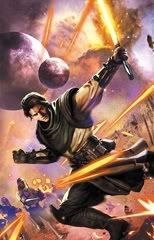 Comic Book Therapy did an interview with John Jackson Miller. The interview covers John's inspirations for his comics and his upcoming new series Knights of the Old Republic: War (which comes out Wednesday). You can read the full interview here.
And don't forget, tomorrow Dark Horse Comics will be doing a live Twitter chat with John.
Dark Horse is also running a digital sale on the old KOTOR comics. You can pick them up individually for $1.99 or as TPB's for $9.99.
UPDATE: John also did a podcast interview with Mos Eisley Radio which you can listen to here, and an interview with Big Shiny Robot here.
Posted By: Skuldren for Roqoo Depot.
Leave a Comment »
Blog at WordPress.com. | The Pool Theme.
Entries and comments feeds.